Isn't it funny how home is the place we spend the most time but it's often the most neglected? Most of us spend so much time and money perfecting our personal fashion style and don't leave enough time to focus on our home style. I'm all about little changes that make a big difference. I love walking into a home and instantly seeing and feeling that it's lived in. Simple updates and finishing touches across the home make the biggest difference in comfort and appeal. You don't need to spend thousands of dollars to make your home feel special, little improvements here and there can transform a space and make it feel more put together and charming. No matter what your home needs are you can achieve them without breaking the bank.
Mirror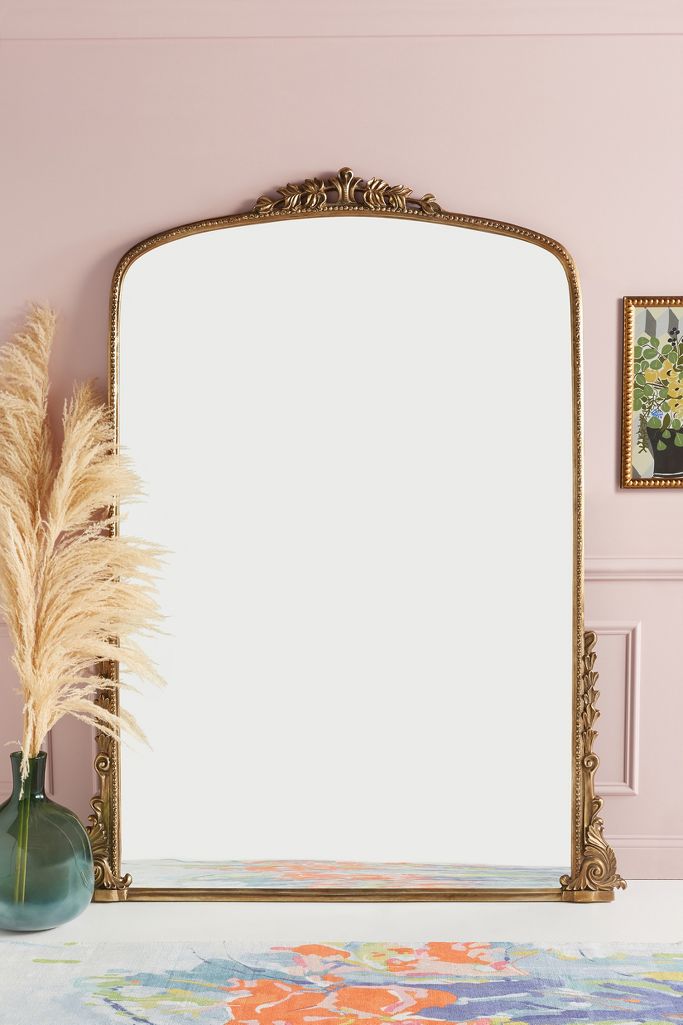 Adding a mirror to a room makes any space feel larger and more open. Lately I've been really into bronze mirrors with intricate detailing. Not only does it make a room feel bigger but it adds character to the space and leaves it with a unique touch. I love this Gleaming Primrose Mirror from Anthropologie, it's detailing makes it elegant and romantic. This mirror comes in multiple sizes but I personally love this 7 foot size. Not only is a massive full length mirror great decor but it also makes getting dressed more convenient.
A cool candle
I absolutely love candles. Nice candles are a subtle luxury that doubles as decoration. This Ryan Porter Candle from Urban Outfitters will absolutely add personality to your home and serve as a great conversation starter. This candle would also be a great gift, especially for a housewarming. I love how it gives a glimpse of personality and humor. If you're looking for something more elegant than humorous, I recommend checking out The Koop. The Koop is a female and black owned company that makes handcrafted candles in New York City. I found them on Instagram and have been dying to try out their scents. I've heard great reviews and can't wait to try them out.
Homemade art
Whoever said art class was a waste of time clearly wasn't thinking of unique ways to decorate! Not only do I love a good craft but I also love paintings. Growing up, my parents always had cool painting hanging on the walls. I always found myself staring at these paintings because they each seemed to tell their own story. I love how art can evoke so much emotion and can give you a taste of what the owner is like. It's personal but also a great way to share a bit of your heart with others. If you want to add life to your home try hanging up a painting you made yourself! I tried this out two summers ago and not only did my art come out looking better than I thought it would, but it also is so rewarding to see something that I created hanging in my home. Your guests will be shocked to learn that the fancy art you have hanging in your home was made by you.
Knobs
It wasn't until I started working at Anthropologie that my eyes were opened up to knobs. I didn't even think about the fact that you could switch out the knobs that came with your furniture for something more artistic and detailed. I love all the knobs at Anthropologie because there is truly something for everyone. It doesn't matter if you're traditional, modern, elegant, or quirky, you're bound to find knobs that suit your style and add a personalized touch to your cabinets and furniture.
Adding life to your home does not mean you need to empty out your bank account for major renovations. Some of the most beautiful details are the more simple ones. Have you ever decorated with any of these items? Which would you consider switching up your home with?
Related: How To Revamp Your Home Office
Related: Brighten Up A Small Space On A Budget
Connect with me on Instagram: