Have you ever seen a celebrity post a picture of their perfectly sanctuary-esque bedroom and thought, "wow must be nice to wake up floating on a comfy cloud in a bedroom that looks like a spa," because same. Or maybe you have flipped through a home magazine and wondered if anyone actually lives in such a serene space. I absolutely love soothing bedrooms. There is something so special about waking up and falling asleep in a quiet and serene space. Having the proper atmosphere and decor will help make the process even more peaceful.
When decorating our homes, we tend to focus more on the look of the more public places, like the living room or kitchen, hoping to look presentable and impress our guests. Usually our bedrooms have the basics, but we forgo detail until a later time. Because we spend most of our time in our bedroom, it is important not to neglect this space. Having a bedroom that is intentionally peaceful and aesthetically pleasing will promote better sleep and give you a place to truly unwind and relax.
Urban Outfitters has a ton of classically comfy styles for the home. Check out my Urban Outfitters bedroom finds that promote a more serene sleep space.
Ivory Bedding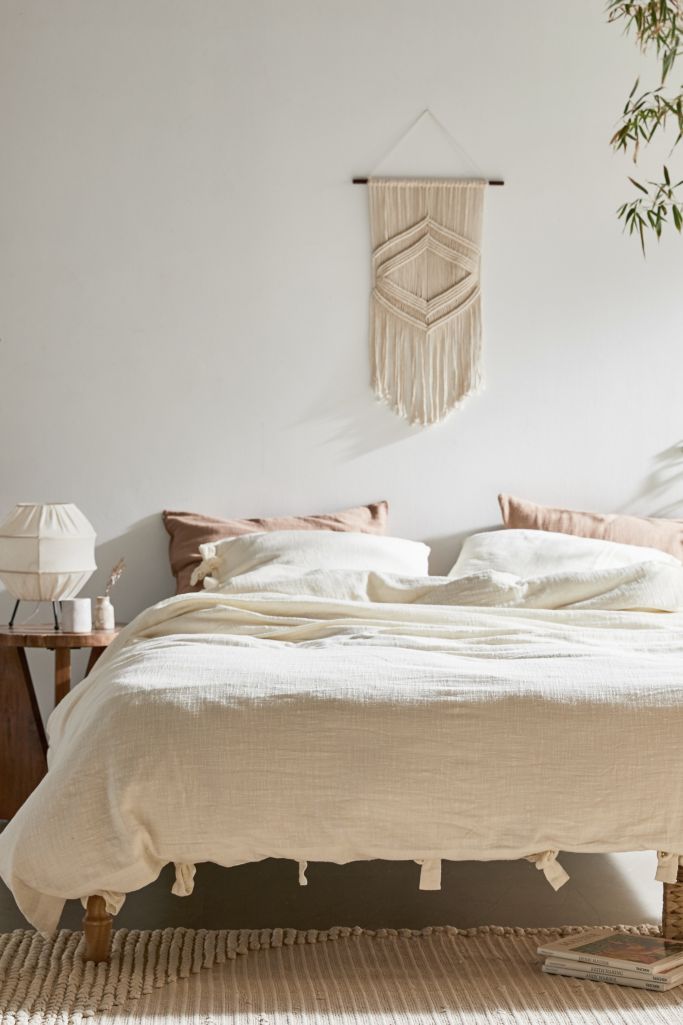 There is so something so deliciously plush about a fresh, white comforter. Give yourself that fancy hotel feel everyday by investing in an ivory duvet cover. The Cozy Slub Tie Duvet Cover has subtle textured cotton slub weave and is trimmed with little ties along the edge. There is something so satisfying and refreshing about white sheets and comforters. They make me feel so clean and rested. After a long day, you may prefer to slide under sheets with a more calm feel, rather than one with a highly patterned design.
Candles
Candles are an inexpensive way to revamp your bedroom. Lighting candles create ambience, calms the mind, improves mood, promotes consistency and supports a restful sleep. These days, candles in the bedroom are a must for me. Decorating with candles that have soothing scents and packaging will give your bedroom a spa inspired feel. Bohéme Fragrances Wanderlust Collection Candle has simple packaging and scents that inspire adventure. This will leave your space feeing dreamier than ever. I have been lighting Voluspa's French Cade Lavender in my bedroom. I love this candle in my bedroom because of the delicately intricate packaging and fresh scent that it carries.
Oil Diffuser
Like candles, an essential oil diffuser will create ambience and have aromatherapy benefits such as improving mood and reducing stress. If you want the benefits of aromatherapy but do not want to light or watch candles, an oil diffuser is the solution you have been looking for. I love this SERENE HOUSE Ranger Essential Oil Diffuser because of the simple and sleek packaging.
Woven Baskets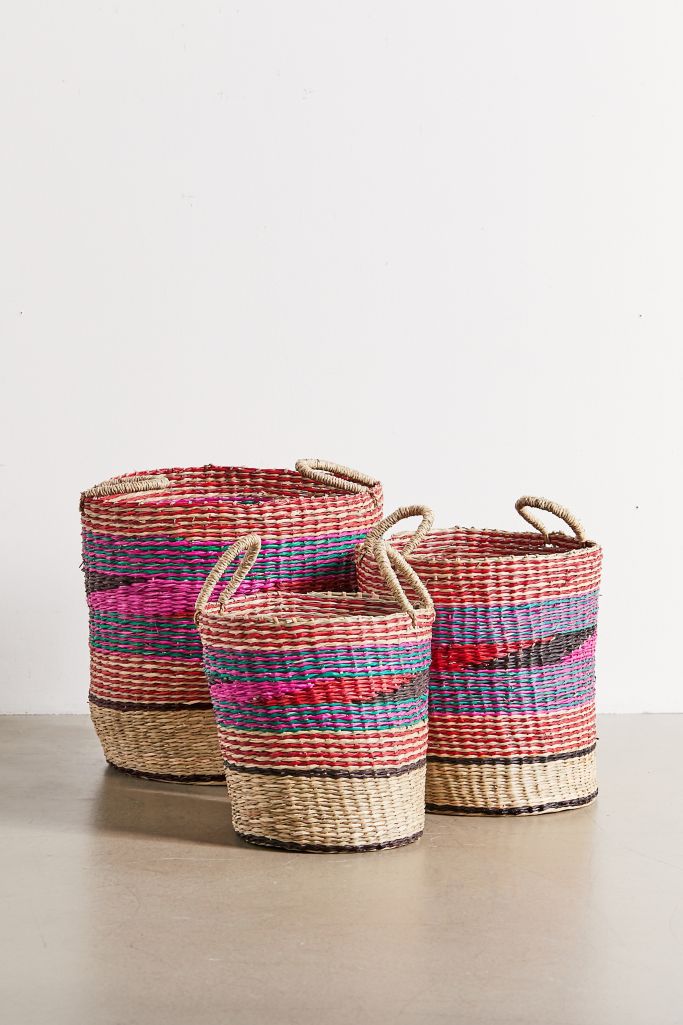 Clutter is never a good thing. Do you have a junk spot in your room? You know, a couch, chair, desk, etc that you through all your clothes or bags on when you are too lazy to actually put it away? Our brains like order, so constant disorganization will cause stress and reduce our ability to focus. Set yourself up for success by avoiding chaotic clutter. Using woven baskets is a great way to do this because it will give you a place to store your miscellaneous items, keep you organized, and it has a rustic feel that makes for great decor. I love this Alione Woven Nesting Basket Set because it has the rustic feel while also having a pop of bold color.
Himalayan Salt Lamp
My best friend got me a Himalayan Salt Lamp for Christmas and I love it! I like turning it on at night about an hour before I go to bed because it makes me bedroom feel so cozy and it helps my brain to understand it is time for rest. These lamps give a warm, pinkish glow and have benefits such as boosting mood, improving sleep, helping breathing, and cleaning air. When watching one of Youtuber Ashley Brooke's vlogs, she mentioned that she keeps her salt lamp in the bathroom at night so she has a light glow (as oppose to harsh, bright lighting) when she goes to the bathroom in the middle of the night. This allows her sleep to be less interrupted.
These simple and inexpensive tips will transform your bedroom from ordinary to a tranquil oasis. What do you add to your bedroom to make it more cozy?
If you like this post, it would mean a lot to me if you would like, share, and comment!
Follow my blog for more lifestyle and wellness content.
Donation:
Want to make a contribution to the blog? Click here.
Connect with me on Instagram: